We hold a number of glass workshops during the year. Full day fused glass workshop for adults, two day stained glass workshop for adults and during school holidays we offer 90 minute glass tile workshops for all ages. Other times you can book private parties and school visits.
---
Thursday, Friday and Saturday are
Drop in Workshops (exception of October half term)
Thursday, Friday and Saturdays are drop in days to make a special piece.
There is a choice of the below items
12 x 10 cm window hanger £15
18cm deep bowl £25
4 x 30cm wish stick £15
Let me know you are coming by Tel 07960654996 or email janet@crushedchilli.co.uk
Project usually take between 60 to 90 minutes.
I have plenty of Tea, Coffee, Juice and Sweets.
Work is available to collect a week later after it has been fired
Look forward to seeing you.
October Half Term 2017

October 24th to 27th 2017
Tuesday to Friday
10.30, 12.30 and 2.30pm
To book a space follow the click here
We are making Christmas Decorations and a tile option for other designs.
£15, refreshments, sweets and badge
10.30 am, 12.30 and 2.30pm
Workshop takes 60 - 90 minutes, work will need to be fired so available to collect a week later.
Children must be accompanied by an adult.
---
Next Stained Glass Workshop dates
Thursday and Friday October 5th and 6th 10.30 to 4pm each day

This is a two day workshop
You will finish the workshop with a 30cm x 30cm leaded panel to your own design
You will learn how to make a cartoon, cut glass, lead, solder and cement. We also have time available to fuse and make glass to incorporate into your panel
2 days £220.00 per person Click here to book
Our workshops are limited to maximum 4 students, which allow plenty of time for tuition and space for a wide choice of glass and materials. 10am to 4pm including lunch , tools and all materials.
---
---
Make a Kiln carved Cheese Board
Saturday 14th October 10.30 to 12.30
Make a kiln carved cheese board
10mm thick cheeseboard kiln carved with your design, this is a 2 hour workshop, work will be available for collection the next day.
---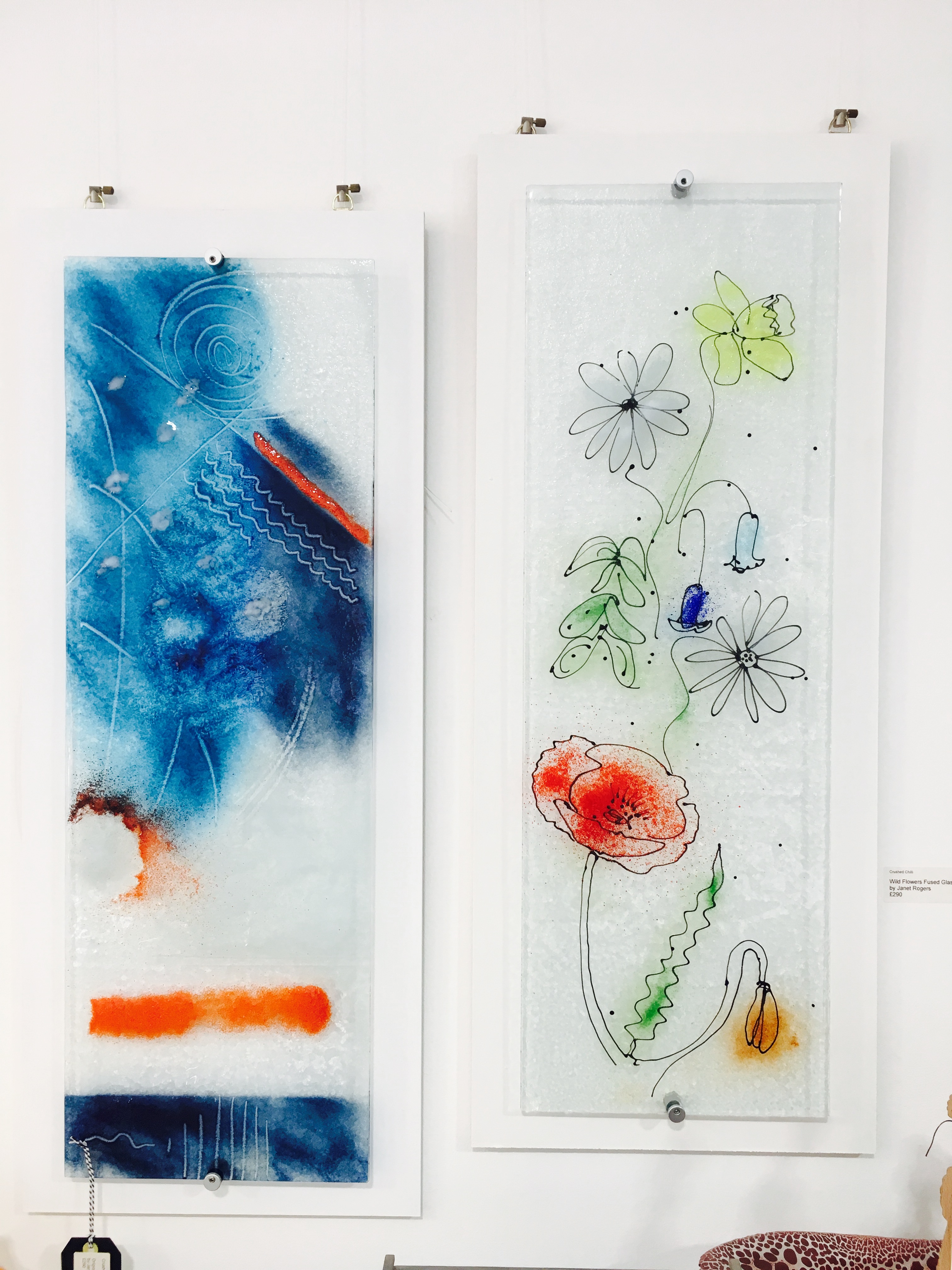 Fused glass picture 90 x 30cm workshop
Thursday 19th October 10.30 to 1.30 £190
In this workshop you will draw with enamels and colour with frit and powders.
Plan and draw your design then transfer to glass. Price includes all materials, refreshments, firing and stand off brackets.
£190 Click her to book
Private Party
Custom Event, We offers a variety of custom event options. Consider Crushed Chilli for your next party, team building event, bachelorette party, group meeting, or for any occasion you want to bring your friends and family together to for a creative group experience - Make Glass Art Together!
We offer a variety of art class-style Birthday Party options for your young artist, £15 per person/item. Minimum of 7 maximum of 15. Includes refreshments for everyone and lollys.

Have a look at Flickr for more images
---
School Visits
We have had school visits to the gallery and we have also visited schools with our glass. The workshops last one hour and students make a fused glass panel. We can incorporate your current art studies, ie Aborigine arts, Butterfly's, fish and more. The students will experiment with colour and the different forms of glass to create a hanging sun catcher of their own design. Great for all ages.
Work is available approximately 7 days after firing.
Please contact us for further details.
Health and Safety
We have full insurance cover and health and safety risk assessment.
Recent schools for reference are
Lanchester EP School, Finchale Primary, Newton Hall Primary, Esh School,St Johns Chappel. Childon Primary, Barley Mow, Oxclose Primary, Shincliffe Primary, Durham 6th Form, Durham University,
Lots more images on Flickr page.